Its been 8+ months since my original post on my Merckx, so its time for an update.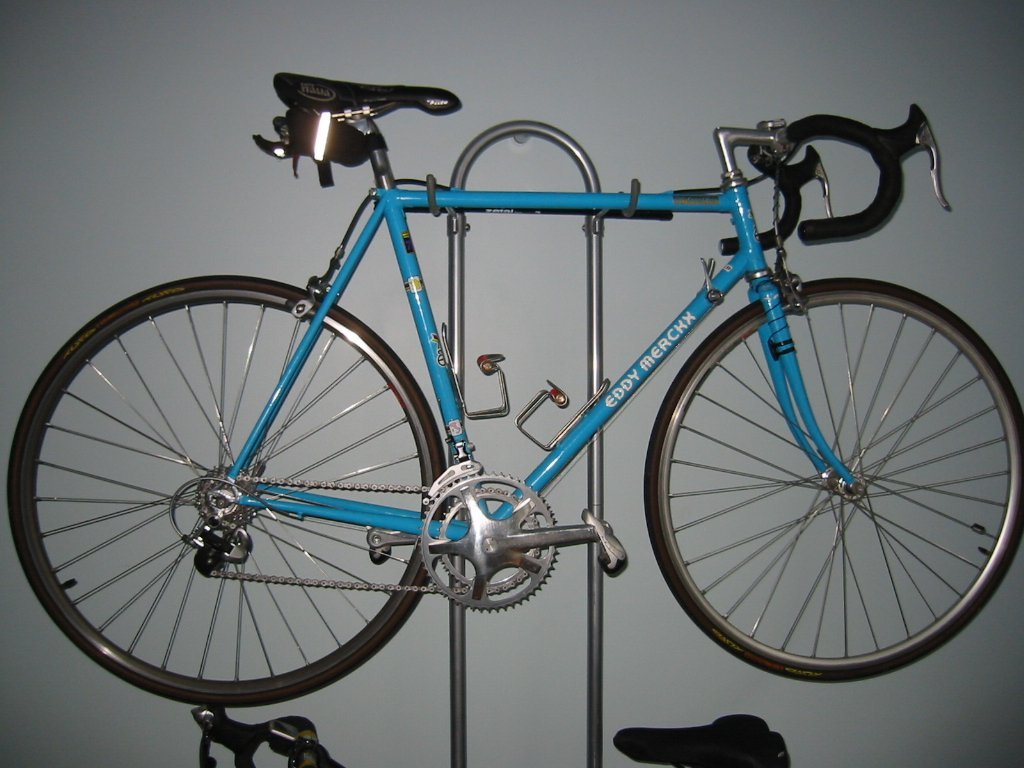 1988/89 Eddy Merckx Gran Prix Frame (Reynolds 753)

Mavic drivetrain (631 Crank, 840 Rear Derailleur, Mavic 862 Front derailleur)

Shimano Ultegra 9 Speed Hubs/Cassette laced to Mavic Open Pro rims, Tufo Tires

Dura Ace downtube shifters + brake levers, Ultegra 600 Calipers

Cinelli Campione Del Mondo bars, 1A stem

Campagnolo Croce d'Aune seatpost

Look 357 Pedals

I'm quite happy with it at the moment. I'm sitting on a set of Mavic 821 shifters, that just might be able to do 9 speed, but I'm thus far resisting the urge to test them out. Oh, and good news -- the 840 rear derailleur does a great job shifting across 9 speeds. Very nice + crisp.
Also in the "someday-maybe-never" box are a set of 453 brake levers (not as nice as the DA), the 440 brake calipers (single pivot -- no thanks) and a set of 645LS pedals (might move to them, but I'm wary of clipless pedals that old). Almost everything I need for a full period setup, EXCEPT a 571 cassette setup, in Shimano spline pattern (571/2 HG I believe?). Don't want to give up my 9 speeds, or the ability to get cassettes at a reasonable price point.