The procrastination has gone on long enough! It's time to publish my next installment of Merckx team bike frames. Let's go!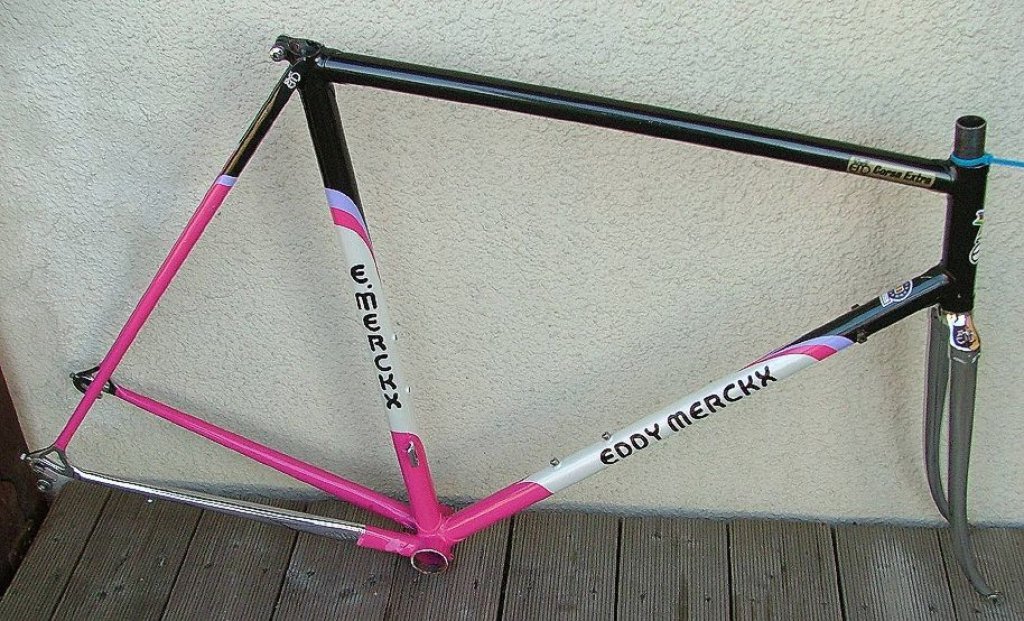 Telekom used Merckx frames from 1991-1995. The above is the color scheme I most associate with Telekom -- you can see it in this
team photo
from 1994.
What you might not know is, in 1995, Telekom changed its name to Team Deutsche Telekom, and changed its bike color scheme to the one you can just make out in
this picture
of a young Jan Ullrich. Its a pink head and top tube, with purple points. Its more or less as if they flipped the colors on their previous scheme, and called it new. At least they didn't have to change their jersey colors. They shifted to Pinarello frames in '96, so this color scheme only lasted a year -- so if they were available to the public, it would have been a pretty short time frame.
OK, its Kelme time. Given how long Kelme was around, you'd think I'd have seen more examples of bikes in the public sporting Kelme colors, but you'd be wrong.
In early years, Kelme rode an all white frame, as seen
here
, as well as a all blue frame, as seen
here
.
In 1985 and/or 1986, Kelme used the same red/pink/white frames that Lotto and Teve Blad did, as seen
here
.
In 1987, they switched to what I think is a pretty awesome color scheme, seen
here
, that matched their jersey's perfectly. I think they kept this frame through 1989.
At some point, for reasons I can't fathom, they switched to
this
color scheme. The switch was in either 1990 or 1991...I can find pictures in this scheme that I'm sure are 1991, but I haven't found any good shots of a rider on one wearing the Kelme/Ibexpress jersey from 1990. Anyhow, the color scheme looks a lot like Telekom, but with a green bottom bracket and rear triangle. Its fine, but its no '87-89 color scheme if you ask me. Not that you did.
Next team post will cover the 7/11, and two of the last pro teams that Merckx sponsored on steel, Motorola and Gan.
This post is a little light on the eye candy...so light in fact, that later tonight I'm going to post a CHALLENGE! With a really excellent prize! Stay tuned...