It's a poorly kept secret that Mavic never made their own brakes. They didn't make their own shifters in some cases, and some of their cranks may have started as unmachined blanks from other companies...but their brakes they didn't even machine at all. From their earliest days, until the late 80's, they sourced all their brakes from the Italian company Modolo. In the early 90's, they switched to Dia Compe sourced brakes, produced in Japan.

Being a Mavic junky of the late 80's/early 90's variety, I thought I'd show off some of my brakes of the era.


The Mavic 440 brake was made by Modolo. As I detailed in a
blog post
about 2 years ago, they're the same design as Modolo used across their product line in the late 80's. They're good, solid brakes, which feel great when stopping.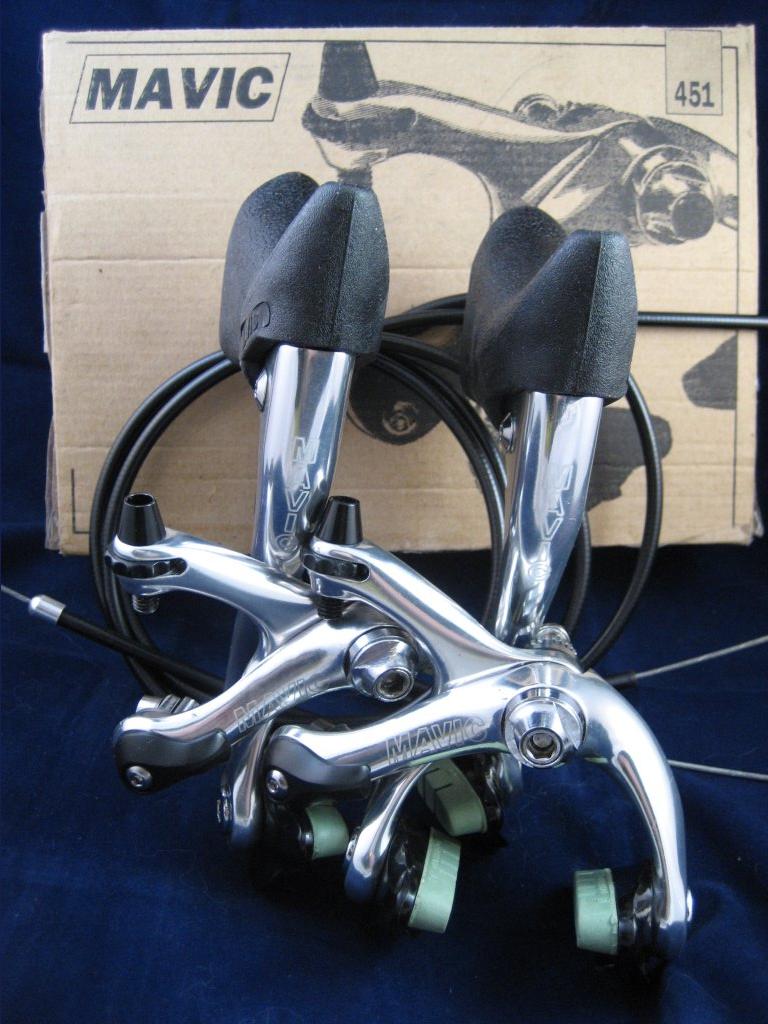 In the early 90's, for reasons unknown, they switched from using Modolo brakes to using Dia Compe ones. These were the same brake as the Dia Compe BRS500, the Suntour Superbe Pro, and seem to be related to the currently available Cane Creek brakes. People either love them or hate them. They're very light, have adjustable tension, and perform admirably. But the hidden spring design makes them prone to problems where the head of the spring bends, and causes the brake to no longer maintain tension. Adjusting them is also difficult -- its done while the brake is mounted to the bike. One arm is pushed counter-clockwise to put it under tension, while the tension cone is turned counter clockwise with a cone wrench. Then, using your third hand, you tighten a hex bolt to cinch it all down, while maintaining just the right amount of tension.
Which is the better brake? Who knows?! They're both pretty cool if you ask me.
Just to head off a question I'm sure to receive...I don't know who makes the current Mavic SSC R3 brake. If you know, let me know!