Just in case you hadn't noticed, I have a couple of topics I seem to write about. I'm clearly a Mavic junkie, a super-fan of late 80's/early 90's racing, and a pave obsessive. Most roadies cringe when you say Rock Shox, but I get all excited at the thought of suspension on cobbles.
So when an insane opportunity arose to merge all of those in to one project emerged, I couldn't say no.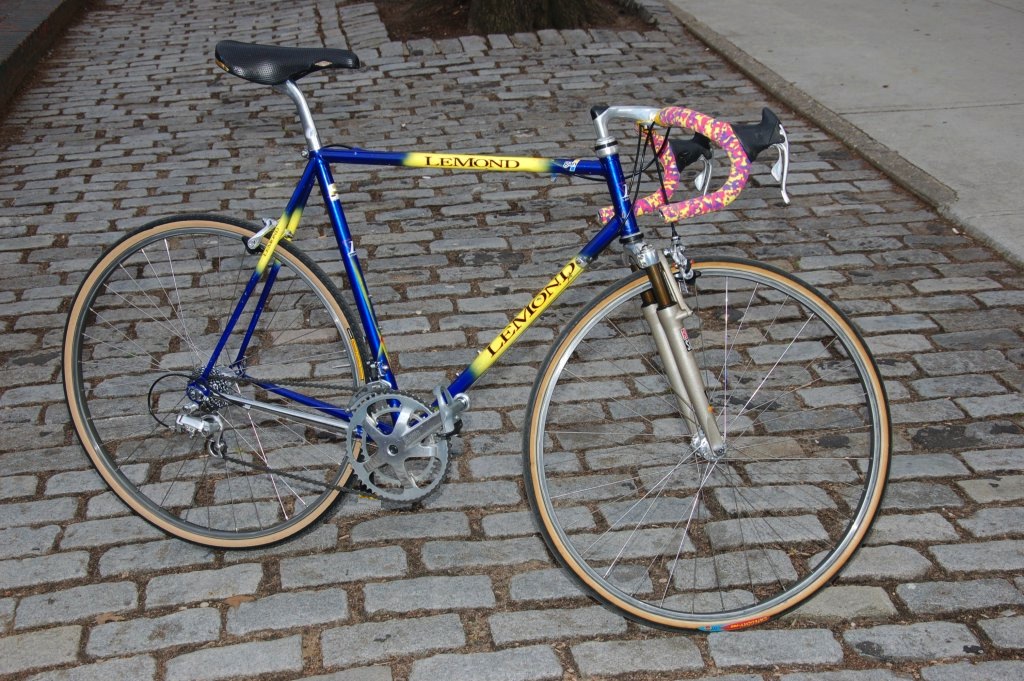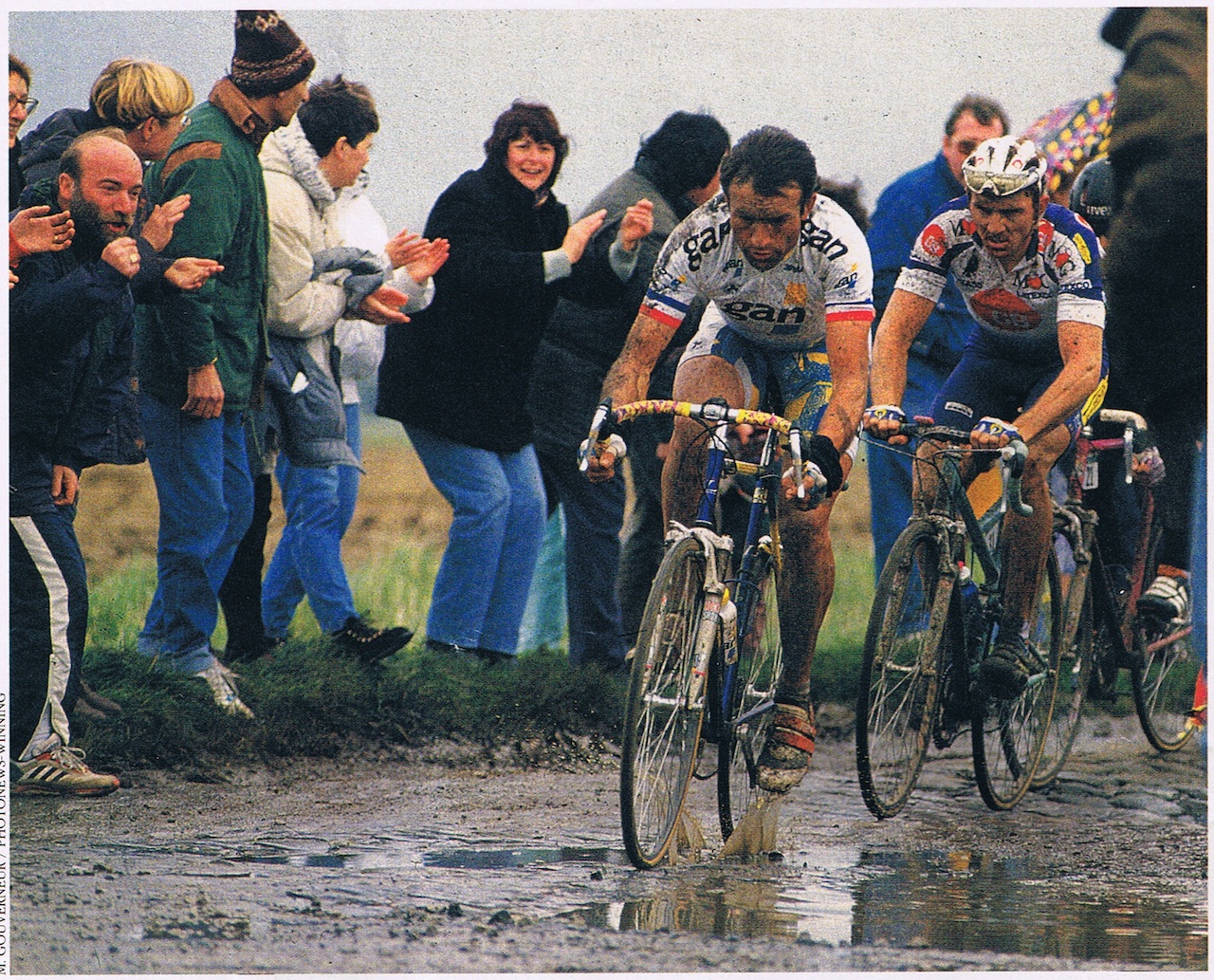 What we have here is the nexus of all the things that get me excited in a bike. Lemond Team GAN, decked out about as close as possible to the bike Gilbert Duclos-Lassalle rode the latter portion of 1994's edition of Paris-Roubaix.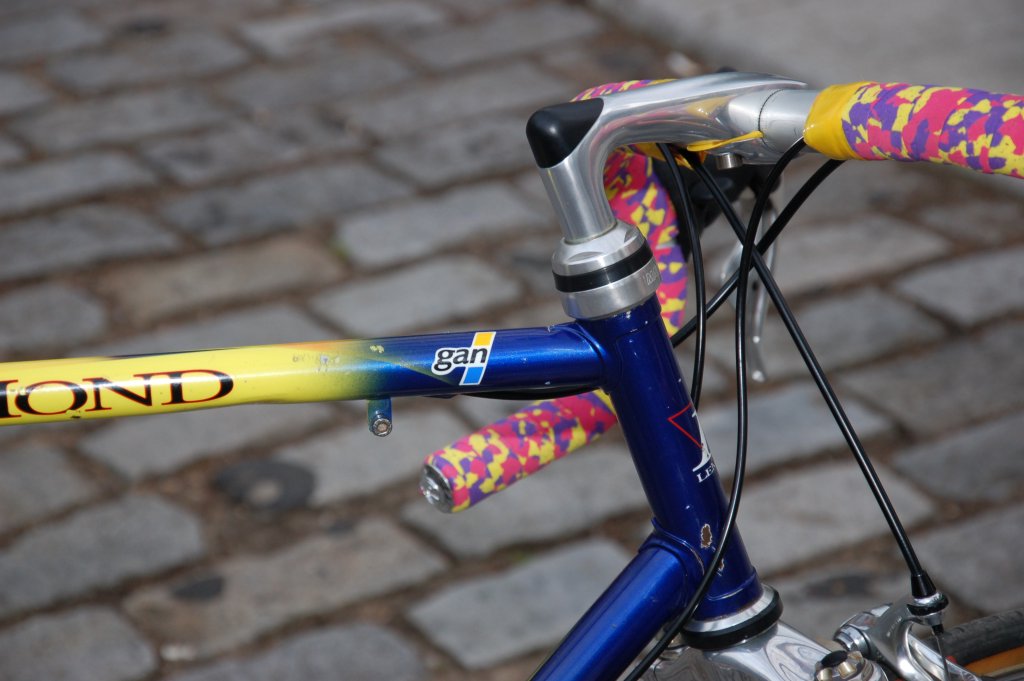 In 1994, GAN was sponsored by Mavic, and rode the Zap electronic shifters in some events - or at least, tried to. As you can see here, Lemond was riding Zap at least a little during the spring classics.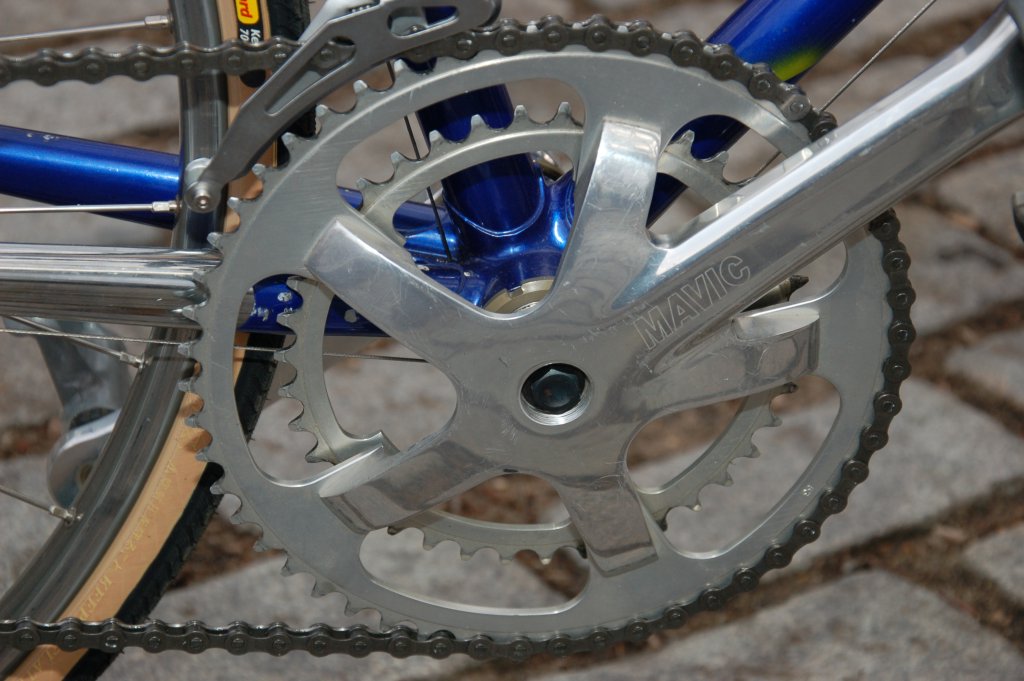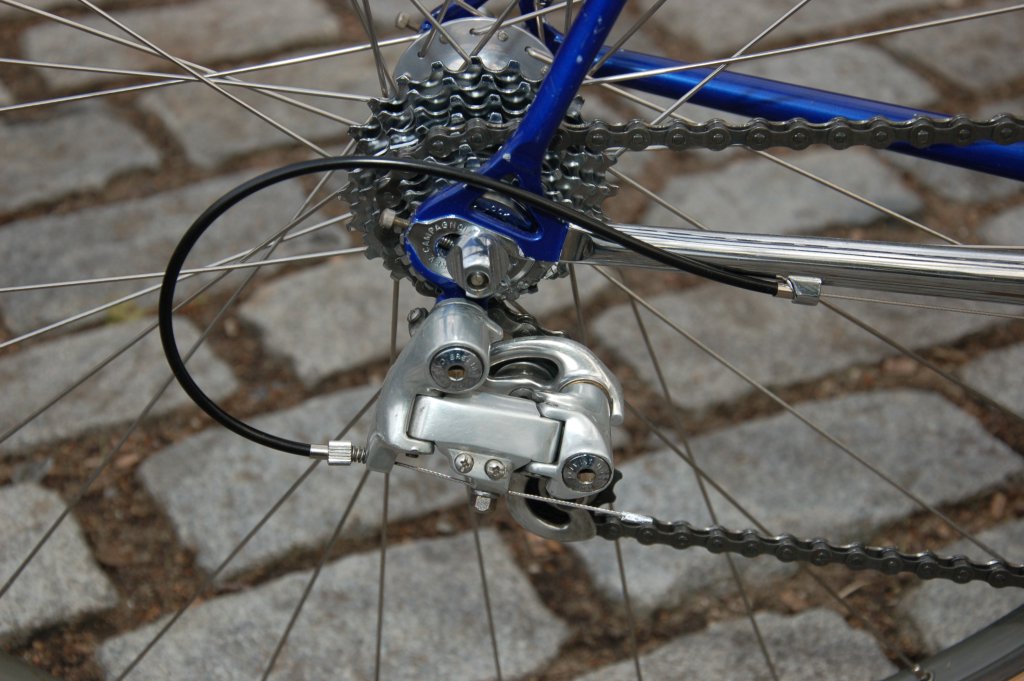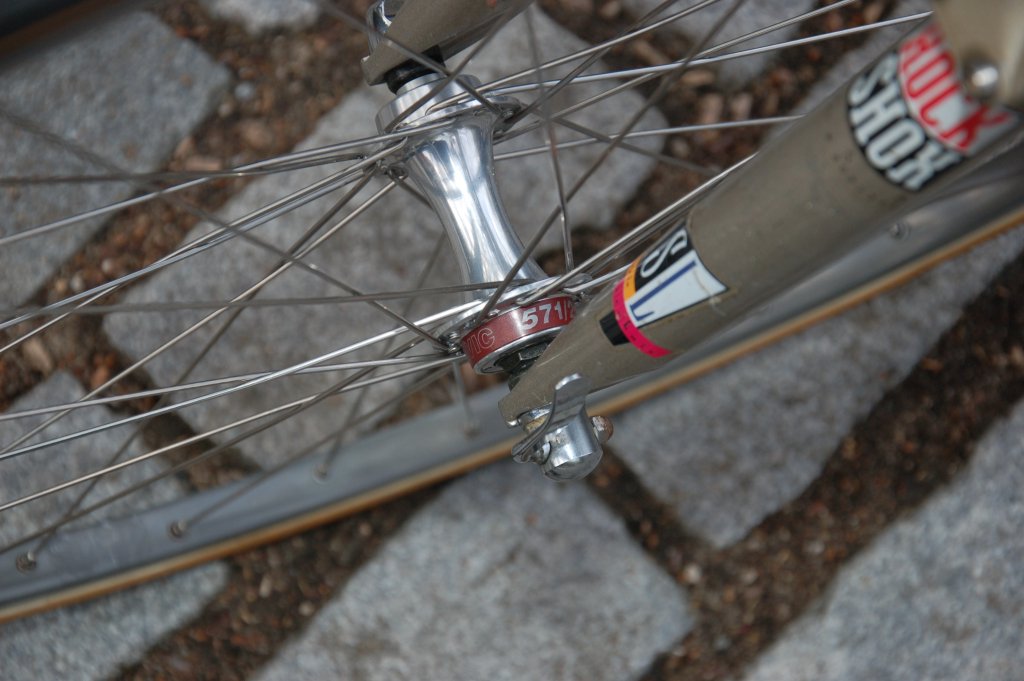 I'm not going to make any assumptions about why, but they did NOT ride Zap in Paris-Roubaix (and, in fact, in a lot of other races as well...but thats a different topic). Instead they rode a mixed drivetrain - the crank was a Mavic 631/2, the 862 front derailleur, and 571/2 front and rear hubs. For shifters, they used Campagnolo's Record Ergopower shifters, along with a Record rear derailleur. The 571/2 would likely have had a Campagnolo Exa Drive body on it, though it could also have been a custom spaced Mavic proprietary cassette.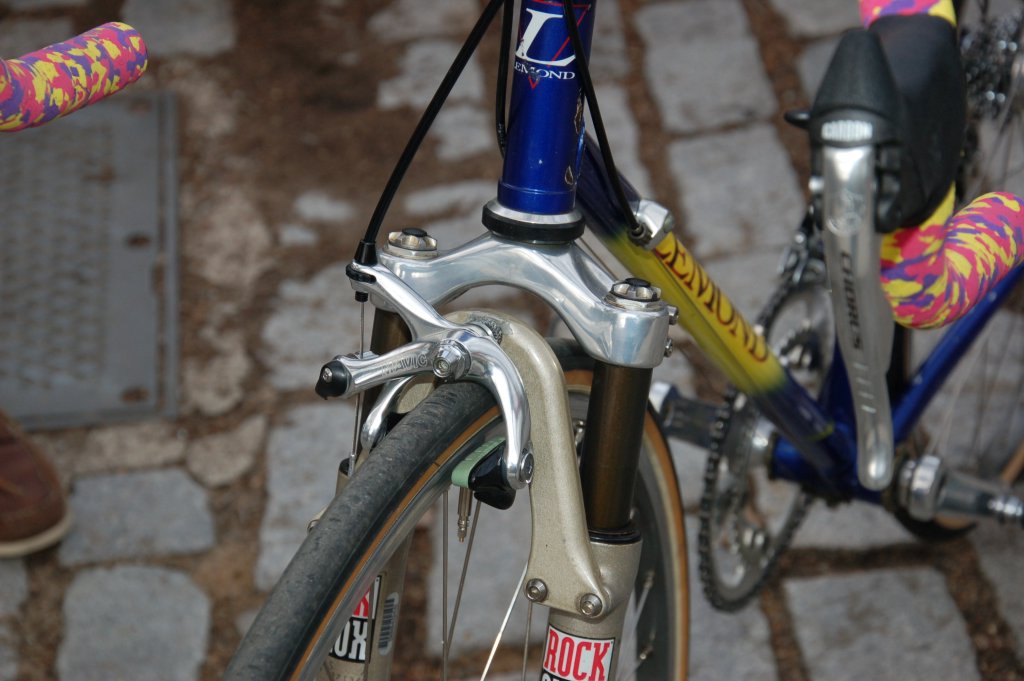 Up front, they were riding Rock Shox Paris-Roubaix SL forks. Mavic 451 brakes. Cinelli bars and stems - Duclos-Lassalle rode Criterium bars (yes, with Ergopower). They used a variety of stems on the bikes, including the Oyster and the 101.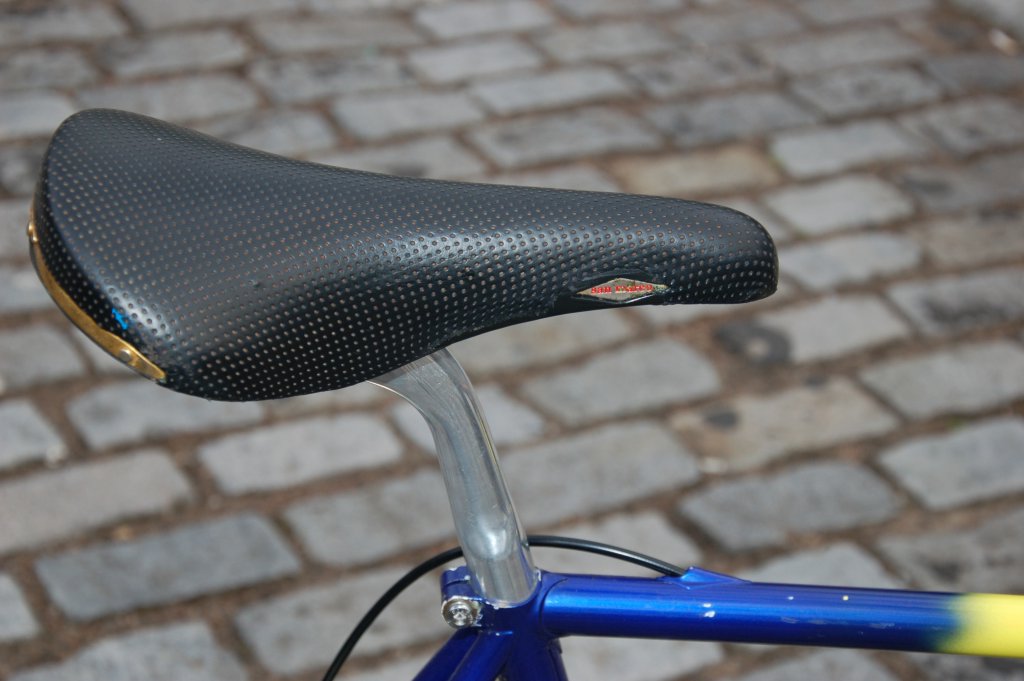 Selle San Marco saddles - some Rolls, some Regals, and some Titanios. Selcof posts.
Obviously, a few liberties were taken in building the bike. I'm in no way scared of tubulars, but I AM scared of the price tag associated with Mavic Paris-Roubaix rims. Tracking down the 1994 version of the Record Ergopowers proved something of a pain, so I acquiesced and went with a set of 1995 Chorus levers - identical to the Records of the prior year, save some cutouts in the lever. There are a few other things I know are wrong, but I'll leave it to the astute - and annoying - reader to nitpick on my project.
I'll be riding this bike Sunday, April 11 in the Brooklyn Pavé ride. It's a ride around Brooklyn, hitting some of the handful of cobbled streets that still remain. It starts at the Old Stone House in Park Slope (4th St. + 5th Ave) at 1pm - we roll out at 2. Please note - this is a friendly little ride not affiliated with any responsible entity. If the rider has a flat or breaks a fork or gets socked by Bernard Hinault, we'll help out but we're not culpable. Moderate pace over some pretty bumpy roads - you'll feel 'em way more than I will, what with my suspension fork - so nerves, or at least an ass of steel recommended. Email me (upper right corner of this page!) for additional info.