Trade the violin for a nice bike, and I'll agree to that. I may not NEED anything else to be happy, but there are definitely a couple of items I really really WANT, that'll make me just a little happier. If you find yourself with any of the following items, and think you might want to sell or trade them, please let me know. Email address is in the about me box on the upper right!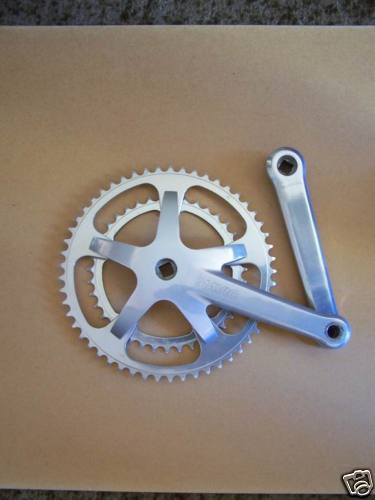 Mavic 631/2 crank: Did you know there are two versions of the 631 crank? It's true! In 1994, the 631 was redesigned. It was relieved on the backside, to lighten it. The arms are boxier, and it'll take a smaller chainring in the outermost position. AWesomeness, and I can't find one! Whatever size, I am not a picky man.
1994 Campagnolo Ergopower shifters: Record OR Chorus. 1992 and 1993 brifters have metal bodies. 1994 is the year they switched to a plastic "carbon" body. The brake levers have no cutouts, and the area directly above the lever is screened 'CARBON' on the Records. Chorus have no marking. Yes, in this case, I am being stupidly picky.
Those are the two more difficult items. I'm always on the lookout for more 571 hubs or parts - can't have enough spare pawls, and I have a little project that requires some 36h shells...a silver Cinelli 101 stem in 100mm would also be nice, as would a nice set of Criterium bars. A single Mavic 451 brake, front or rear too!
Thanks for reading!
Post title is an Einstein quote. Pretty sharp guy! ;)